⭐The Crawling Chaos Event!
Heroes, what do you do when the threat comes from another world?
That's what you should find out in the new "The Crawling Chaos" themed event! Check out the event details below and take advantage of the opportunity to get lots of skins, exclusive pets, and a new gear!
▌
Plot
Years ago, Nyarlathotep, the Crawling Chaos, invaded the
planet Kr'llyand
, bringing chaos and driving the inhabitants of that region to madness and ruin. Samuel and Lavinia, two of the only survivors, are now fighting against time to stop the evil from spreading to all regions of the universe. Knowing that the Dark One now plans to attack the world of Mana, Samuel has arrived in Mana Storia to prepare the resistance!
▌
BonusesPeriod:
Until November 27, 06:00 p.m (Server Time)
During the entire period above, the following bonuses will be active:
◆ EXP 1.25x (normal battles, loot token)
◆ Gold 1.1x (normal battles, loot token)
◆ Party (+1% Exp, Vocation EXP, Drop Rate) / member
▌
The Crawling Chaos EventPeriod:
Until November 27, 06:00 p.m (Server Time)
Required:
Hero Level 20
Samuel will be camping near your home for the duration of the event.
Talk to him to start the special mission "The Crawling Chaos", consisting of 12 acts.
Completing Samuel's missions will provide completion rewards and unlock a new map called
"The Vhoorl"
:
You can battle on this map (consisting of 10 waves of enemies),
once every 5 minutes,
to obtain new pets (legendary chance), special items, and familiar skins:
Gobogeg (
Earthstrike III, Power Blessing III / IV, Drain II)


* These enemies are harder to catch!
▌
Nyarlathotep Raid Boss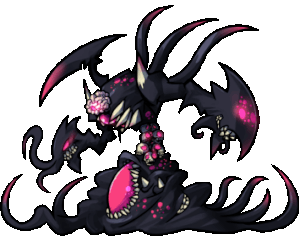 Period:
Until November 29, 06:00 p.m (Server Time)
Once the first player completes the map "The Vhoorl"
, Nyarlathotep's raid will be unlocked and will take place every 3 hours. Defeat Nyarlathototep to obtain one of the following items:
◆

01 Familiar Capsule Shard (Legendary)
◆

01 Rare Armor Shard
◆

25 Elaeocarpus
◆

01 Epic Pet Gear Shard
◆

01 Dread Knight Fashion Bag
◆

25 Loot Token
◆

01 Fortune Ticket
◆

01 Dunwich Egg (Legendary chance!)
◆

01 Nyarlathotep Necklace (Rare): HP+100, ATK +10, MATK +10, SPD +10, Gold +2%
Dunwich
(
Fire Hurricane IV, Fortify III / IV, Heal II)
▌
Community Challenges



Also participate in the community challenges to unlock new skins and get other items!
Mana Storia
You've reached the end of replies.